Print Guide

Clare River Milltown
| | | | | | | |
| --- | --- | --- | --- | --- | --- | --- |
| | | | | | | |
| | Grade: | | 2 to 2 | | Rating: | |
| | County: | | Galway | | Date updated: | 08/11/2011 |
| | Section Length: | | 3 km | | Version: | 6 (History) |
| | | | | | | |
Brief River Description
A low grade river, perfect for beginners first run on a river, moving flat water for large section with 1 tongue and two wave trains, no mad hazards, just trees to worry about.
Directions to the Put-in
Mliltown Drive into Milltown from Mayo side, turn left at first turn, head up along road. Short run is get in on first right out of town, go down road for 200 metres and get in at bridge Long run keep going on the original road out of town, keep going for about 3 kilometres until you come to bridge. Get in on right after bridge. Get out is in Milltown village, at playgorund opposite church, can't miss it - by slide in centre of village beside their carpark.
For good map see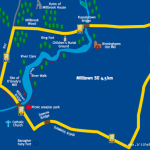 Directions to the Take-out
Take out in Milltown as you enter the village by boat you will see a stone wall on both banks, keep river left until you can see the bridge, get out here at steps. Small eddy sometimes so keep your distance.
River Description
From long run,
get in at bridge, no problems, fast flat water, on first right turn there is a low wire so keep an eye out for it.
First main feature is a tongue with two big eddies on both sides, perfect for teaching.
This is about ten minutes into the run.
About 30 mins from there you will see an old mill and bridge(second get in). This leads into the first of the wave trains. No problem in medium water but in high water it leads in trees so watch those new people.
About 10 mins from that is the second wave train with lots of little tow back stoppers that are randomly in the middle of the river, nothing that will hold you, just scare the beginners. At the end of this section is the get out. You can walk path back up on river right to run the last section again
For adventure trips with a difference, try paddling from the get out of this river to the get out of Tuam. One or two small rapids but nothing scary for beginners. I've started bringing people who are looking for or just got their level 2 certs. It is a long flat water run with the Tuam hole at the end. The drop into the hole cant be seen by beginners and usually they get a big rush out of it. Nice summer canoe run.
Local issues
No issues.
River level gauge
From the get out look along the walls at river bank by the car park. Medium level is about a metre below the top of the wall.
This section is up river of the Tuam Hole. You can read the gauge for that online.
River Hazards
Trees and Swans
Author(s)
Original Author: Bryan Fennell
Latest Author: lg
(
Full History
)
---
Please use the forum for banter or questions.
Please add river details by adding to/editing the guide.