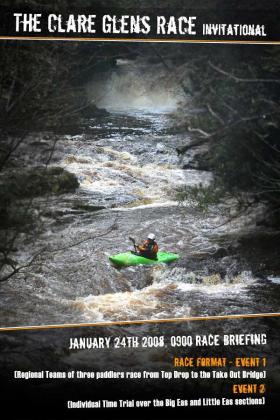 "The first competitive Clare Glens Race will take place on Saturday, January 24th 2008. The concept is a core race, no frills - just friends out racing on Irelands most exciting kayak run.This is all about the challenge of racing on the Glens in two seperate events."
With the River god's smiling, the first Clare Glens Invitational Race is looking good. Races such as this are helping to bringing white water back to the core of Irish paddling, its rightful position. More information about the race format can be found on the Clare Glens Race Blog.
The invitational model paired with the ambitious course will make this race fodder for spectators. The only problem people will have is deciding which vantage point will provide the most carnage.
Where:
Clare Glens River, Co. Limerick
When:
Saturday, January 24th 2008
Website:
clareglensrace.blogspot.com